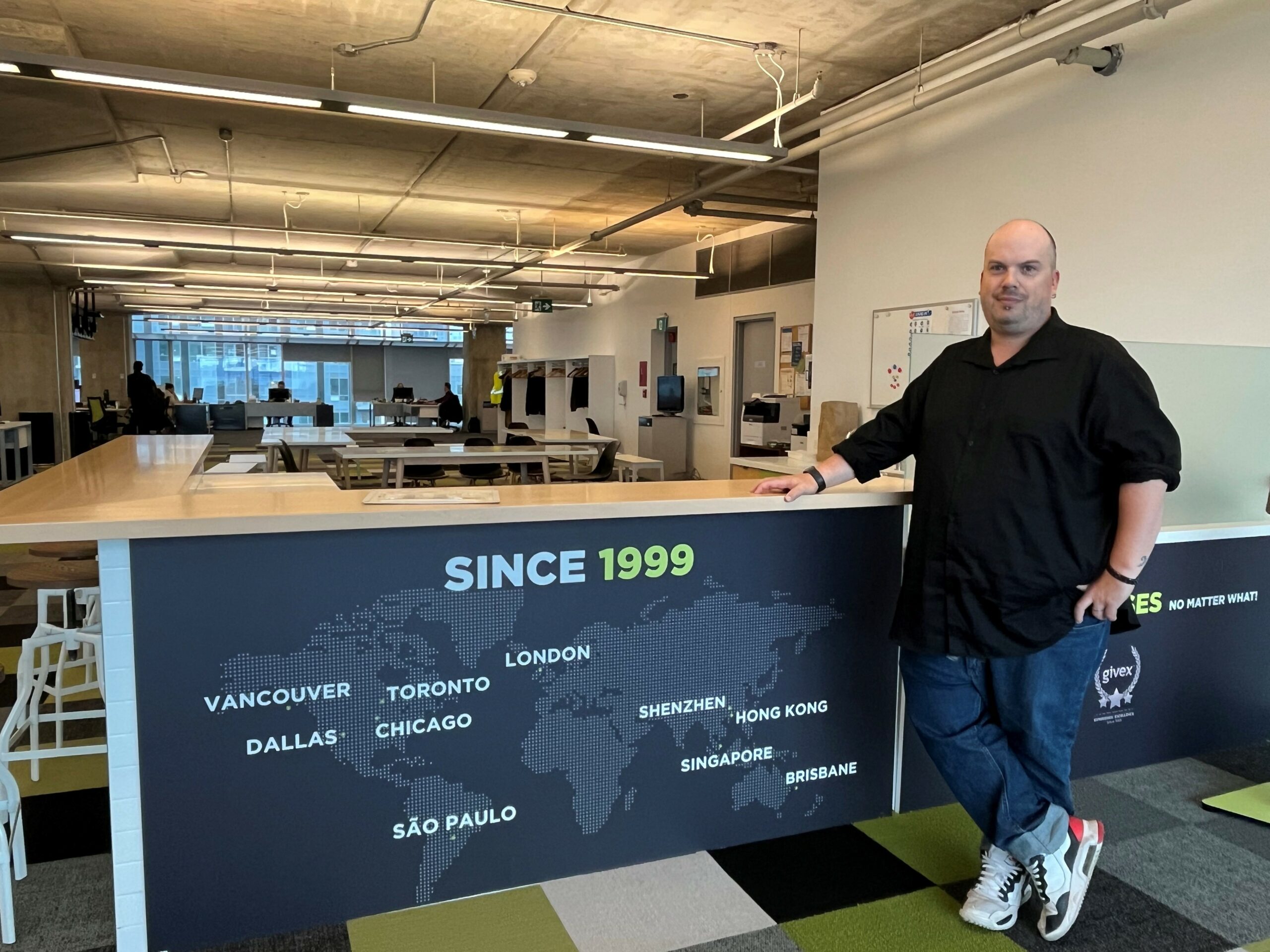 Employee Spotlight: Jason Tkaczuk
Meet Jason Tkaczuk, our Implementations Specialist for Uptix at Givex. Jason's story is one of positive development. Unhappy at his last job, he looked to the Givex family for a transformation. What followed was a successful career, collaborative teammates, leading innovation and working with major sports teams.
What drew you to Givex, and what do you enjoy most about working here?
The reason I was attracted to the idea of working here stems from my dissatisfaction with my previous job. I was feeling unfulfilled, and it was during this time that I came across Givex. Coincidentally, one of my colleagues was going through the interview process with the company, which sparked my curiosity. Intrigued by this opportunity, I decided to conduct some research on Givex, and the more I learned, the more I believed it would be a perfect fit for me.
What particularly stood out to me about Givex was the strong sense of camaraderie and inclusivity within the company. It felt like more than just a workplace; it felt like a tight-knit family. This aspect, along with the positive feedback I received from my colleague, played a significant role in my decision to apply.
Now that I have been working here, I can confidently say that the people are what I enjoy the most about being a part of Givex. The team members are genuinely supportive, collaborative, and friendly. I have found a sense of belonging and community that I did not experience in my previous job. The supportive atmosphere encourages open communication, allowing for the sharing of ideas and fostering a positive work environment. Working alongside such incredible individuals has not only enriched my professional growth but also made the entire experience enjoyable and fulfilling. The bonds formed with my colleagues go beyond the workplace, making Givex a place where I look forward to coming in each day.
What has been your most rewarding experience during your time here?
During my tenure here, the most fulfilling and gratifying experience has undoubtedly been the opportunity to contribute my skills and demonstrate my worth to the executives. Being granted the privilege to work alongside them and the rest of the team has been immensely rewarding. From day one, I have strived to exhibit my dedication and commitment, ensuring that I consistently deliver my best efforts and exceed expectations. The satisfaction derived from proving myself as a valuable member of this team and the knowledge that I have not let down my team and supervisors after they entrusted me with this chance, is immeasurable. This experience has instilled in me a profound sense of accomplishment and motivation to continue making significant contributions, driving both personal and professional growth. I am grateful for this remarkable opportunity and the profound fulfillment it has brought to my journey here and in my personal life.
In what ways has working at Givex as an implementation specialist challenged you?
Working as an implementation specialist at Givex has consistently presented me with opportunities for personal growth and learning over the past eight years, as I actively seek out solutions to meet the diverse expectations of clients, often requiring innovative and unconventional problem-solving approaches.
How have your past experiences prepared you for your current role at Givex?
Having spent a significant portion of my professional life in customer service, engaging in phone interactions and resolving people's concerns, I have honed my patience and developed a valuable skill set that translates well into my current position at Givex. This experience has taught me the importance of allowing situations to unfold naturally and maintaining a sense of calm, knowing that eventual resolutions will arise. Additionally, my innate eagerness to assist others and troubleshoot problems has proven to be a valuable asset in my role, enabling me to effectively address challenges and contribute to successful outcomes.
What does your day-to-day schedule look like working here?
Working at Givex entails a fast-paced daily schedule, mainly due to my primary focus on Uptix clients, who frequently require immediate responses and rapid project completion, demanding effective multitasking and prompt delivery. In addition to these challenges, I find great satisfaction in supporting and mentoring my teammates, sharing my knowledge, and fostering a collaborative environment where we can collectively grow and succeed.
What's your favorite part about coming to work every day? What keeps you motivated?
The most enjoyable aspect of coming to work every day is the opportunity to collaborate with fascinating clients, particularly sports teams, and the excitement that arises from encountering novel tasks and continuously expanding my knowledge. Additionally, knowing that I can share this knowledge with future team members who join us along the way keeps me motivated and inspired.
How would you describe your team and everyone else at Givex?
A family away from my family.