Your Omnichannel Loyalty Strategy – Use These Steps
Here's what omnichannel loyalty is and why it matters for your business:
Definition – Your customers now expect you to know who they are, what they have purchased and their preferred methods of interacting with you, while at the same time not wanting your business to compromise their security or privacy.
Omnichannel loyalty programs address this expectation as they deliver engagement via multiple channels to meet the needs of each customer via their individual preferences.Whether via print, online, broadcast, retail Point-of-Sale (POS), direct mail or social media the effective omnichannel loyalty program engages the consumer with the correct message at the correct time via the correct channel. With omnichannel loyalty your organization aims to implement ongoing campaigns that speak to each customer and engage them with your brand.
With omnichannel loyalty you never stop selling, but instead of yelling the same sales pitch to everybody, you are whispering individualized sales pitches unique to each customer.
Beyond just speaking to each customer you are also tracking them in whatever channel they are interacting with you whether their smartphone or desktop computer, knowing what customer is buying what how.
Here are some actionable steps to implementing omnichannel loyalty:
Step 1 – Use Data to Give Targeted Offers:
Omnichannel loyalty is not about sending the same offers to everybody – instead it entails sending individualized offers to similar clusters or segments of your customer base. Do not give your marketing department the directive to send each of your thousands or even millions of customers an individual offer each. This is not viable.
Instead as a first step get the data on your customer base gleaned from previous surveys, emails, POS data, website usage and loyalty and gift card programs. A good, basic data-centric loyalty program will give you the data needed to segment or group customers with similar demographic and psychographic information together (for more on psychographic marketing read this).
An example of the type of information you can expect from your data team is; a grouping of your single, male customers ages 18-26 who prefer fashion-forward products, see the brand they buy as an extension of their masculinity, live downtown and have medium-to-high paying white collar jobs vs. female customers ages 35-55 who are career-oriented, executives, with one to two children, divorced, believe in value in products instead of brand-recognition, don't buy into advertising messages and live in the suburbs.
To continue with this example you would not send the same promotional offer or discount to both the middle-aged, executive female and the young, professional male. Nor would you advertise loyalty program benefits to them via the same channels.
Part of your data teams' customer base research should have ascertained which channels the female executive and young male uniquely prefer. Know whether the female executive prefers print and email communications while the young male primarily uses Instagram and his smartphone.
Now with the right data in hand your brand can send offers to each of your customer segments, using language and imagery appealing to each cluster of customers as well as the promotional offers on the product lines of interest to them via the right channels.
A study on consumer attitudes found that customers now want to connect seamlessly with retailers across channels and also desire personalized communications and targeted offers. The study found that the top three personalization factors that influenced purchasing were:
 Special Treatment for Loyalty: Receiving special treatment from a brand due to their loyalty. Special treatment can include exclusive shopping events, pre-sales and bonus points.
 Appreciation of Loyalty Status: Brands fans and especially loyal customers appreciate perks such as dedicated customer service, appreciation letters and personalized communication.
 Personalized Offers: Customers not only appreciated personalized offers and deals, they are willing to give brands personal information in exchange for these rewards.
Step 2 – Drive Brand Engagement:
Once you have the data go beyond simply awarding points for products/services bought.
Instead think of your omnichannel loyalty program as a way to continuously prompt engagement with your brand and spur brand loyalty. Do this by giving rewards or discounts for showing up to in-store events, filling out surveys, sharing your brands' posts on social media, retweeting your tweets etc.
Also remember to provide a consistent brand message over all channels. The offers you provide may be individualized and targeted but the brand message should be uniform.
An example of a brand with a great omnichannel loyalty presence is Disney: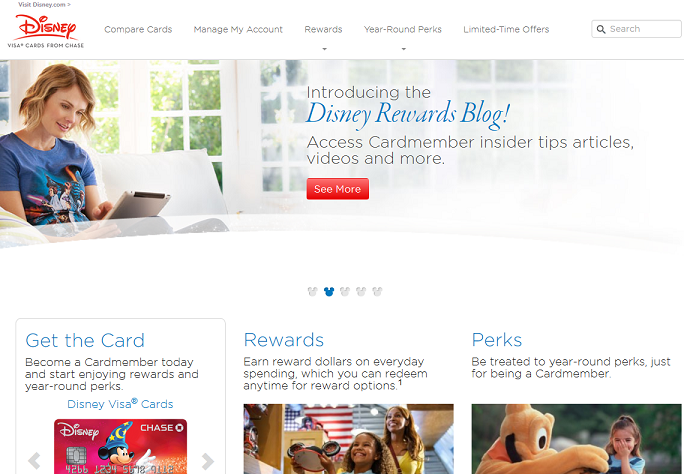 Notice that Disney offers rewards or 'perks' for being a loyalty member, not just for every time a customer visits. These perks include 'vacation perks' and 'shopping perks'. Their 'limited time offers' include VIP seats for loyalty members for a Broadway show, exclusive Disney spa offers and an exclusive Tinkerbell pin. Their rewards encourage brand fans to interact with their brand online and offline and offer rewards that keep Disney on the mind of their customers beyond when a Disney park is visited.
Through providing a consistent brand message and encouraging continuous engagement you stay on consumers' mind without intrusive advertising techniques. With events and social media sharing you also increase your brand's chances of becoming a part of the consumers' lifestyle and shopping habits.
Step 3 – Embrace Technology:
Now that your brand is continuously driving and rewarding engagement, impress these loyal brands fans by an impressive in-store experience as well.
It is important to bridge your brand's online and offline 'world'. Customer loyalty garnered through online promotions and efforts will lag if the customer is met by a lack of product/service knowledge from your staff, inaccurate inventory status, the inability of your POS to process rewards seamlessly and the necessity to print out reward coupons instead of scanning a mobile device etc.
The omnichannel customer experience does not end when they leave your website, it continues seamlessly throughout your brick-and-mortar locations.
Try implementing beacons (which identify when a customer enters your location and send them relevant offers right-away), MPOS (mobile-point-of-sale to pull up customer profiles when they are asking you questions to provide tailored and relevant customer service), mobile wallet, electronic displays, virtual mannequins etc.
A perfect example of a brand implementing this is Marks & Spencer: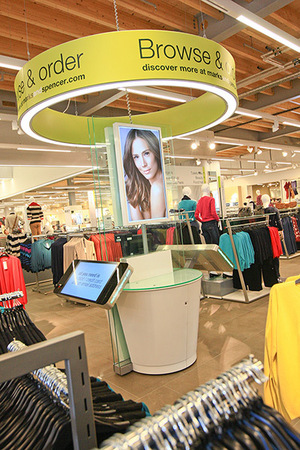 Marks & Spencer who have installed 'browse and order hubs' which allow customers users to browse the M&S catalogue, scan barcodes on items and explore product information, order on the device and have the product delivered or collect instore. The touch screen devices also come with a card payment machine. These touch screen devices resemble huge iPhones and come with a card payment machine. From online engagement to offline brand interaction remember that a key benefit is to track the customers' interaction with your brand across channels.
Having instore technology where a customer inputs their unique ID or personal information further gives you information on their purchasing habits and buying decisions.
Through getting the right data, using this data to increase engagement and further impressing these engaged customers with instore technology your brand can create a modern and omnichannel loyalty program that makes you competitive and drives sales.
Need more convincing? Read this blog post on loyalty program benefits.
Also reach out to Givex for a data-centric loyalty program or just for more information on implementing one.