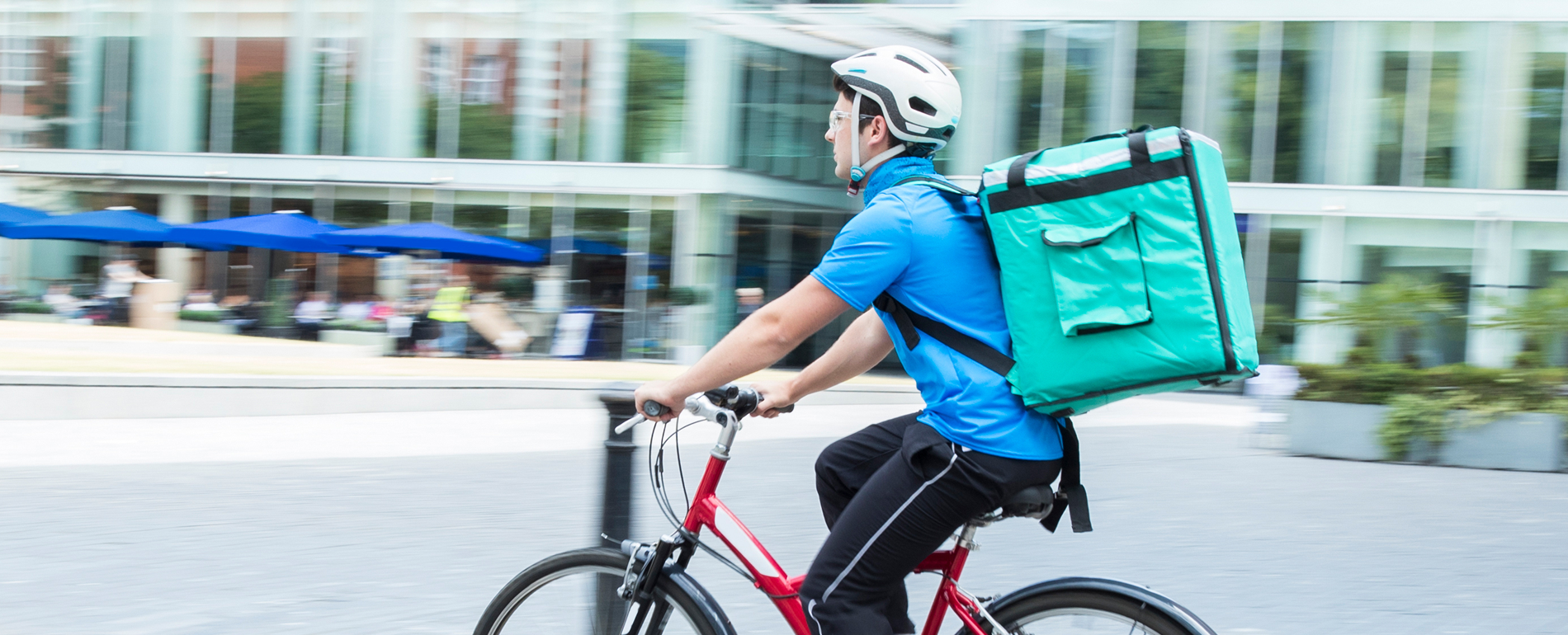 Greggs rolls out Just Eat partnership for home deliveries
Hot on the heels of its success with vegan sausage rolls, Greggs has signed an exclusive deal with takeaway food delivery giant Just Eat. This is a major development in the fierce and rapidly growing food takeaway industry: Just Eat was recently acquired by the Dutch company Takeaway.com for £5.9 billion, after contentious negotiations. The delivery partnership marks the end of a competitive selection process, with rival delivery providers such as Deliveroo and Uber Eats running trials in London, Newcastle and Glasgow last year. Just Eat will deliver Greggs permanently starting in Birmingham and Bristol, and will roll out to other British cities over the coming year.
Why Just Eat?
If the merger between Just Eat and Takeaway.com goes through (at the time of writing, The Competition and Markets Authority is investigating the deal), Just Eat will become one of the world's largest meal delivery companies. Just Eat's major advantages include its geographical coverage, which is significantly greater than its competitors outside of urban centres (and remember, Greggs is everywhere in the UK). The service also has the largest number of users and offers lower fees for restaurants.
The brands are also well aligned. Greggs is a much-loved food chain, and Just Eat is a much-loved delivery service. Just Eat is still the biggest food delivery service in the UK, after operating for many years, and offers the lowest delivery fees (starting at only £1.50). Meanwhile, Greggs offers affordable comfort food on nearly every high street in the country. In short, the two companies' value propositions neatly overlap. And with speculation that the partnership will be a loss-leader for the delivery company, we can assume that Just Eat knows the power that the Greggs brand has.
Why delivery?
So why has Greggs, which describes itself as a "bakery in the food-on-the-go market" added delivery as an option? Well, it says it's trying to build on its "existing estate of shops to take Greggs to where our customers want us to be". This is part of a larger shift in its approach to keeping the company fresh, which has included a major, successful brand revamp (think back to those vegan sausage rolls).
McDonald's, KFC, and Burger King have also paved the way for low order value food delivery. According to this fascinating article in the FT, McDonald's is by far Uber Eats' most popular food outlet by volume, and the exclusive contract between the two is expiring. If Just Eat can succeed at this end of the market with Greggs, it may be able to convince McDonald's to join the service, which would further cement their leading position.
What's next?
The FT article discusses the dynamics of exclusivity, and how it offers a sizeable bargaining chip in business negotiations but may ultimately mean limiting reach to customers. Interestingly, Richard Hutton, finance director of Greggs, told the FT the agreement was "not necessarily forever" – so watch this space.
Overall, this move is almost forcing the hand of Greggs' competitors to follow suit and make themselves available to customers at home. Meanwhile, Just Eat is still the company to beat in the delivery industry, even if the Takeaway.com merger runs into issues. And for consumers, this competition is excellent – it's bolstering the delivery industry and bringing brands that we used to only eat out directly to our doors.
Similar Blog Post: Reasons to Opt Out of Using 3rd Party Delivery Services 

If you aren't clear on what third-party delivery service does, here is a quick rundown. A third-party service like Uber EATS lets customers order food through an app. It then contracts drivers who use their own cars or other transportation to make the deliveries. The services earn money through restaurant commissions, delivery fees, or both.