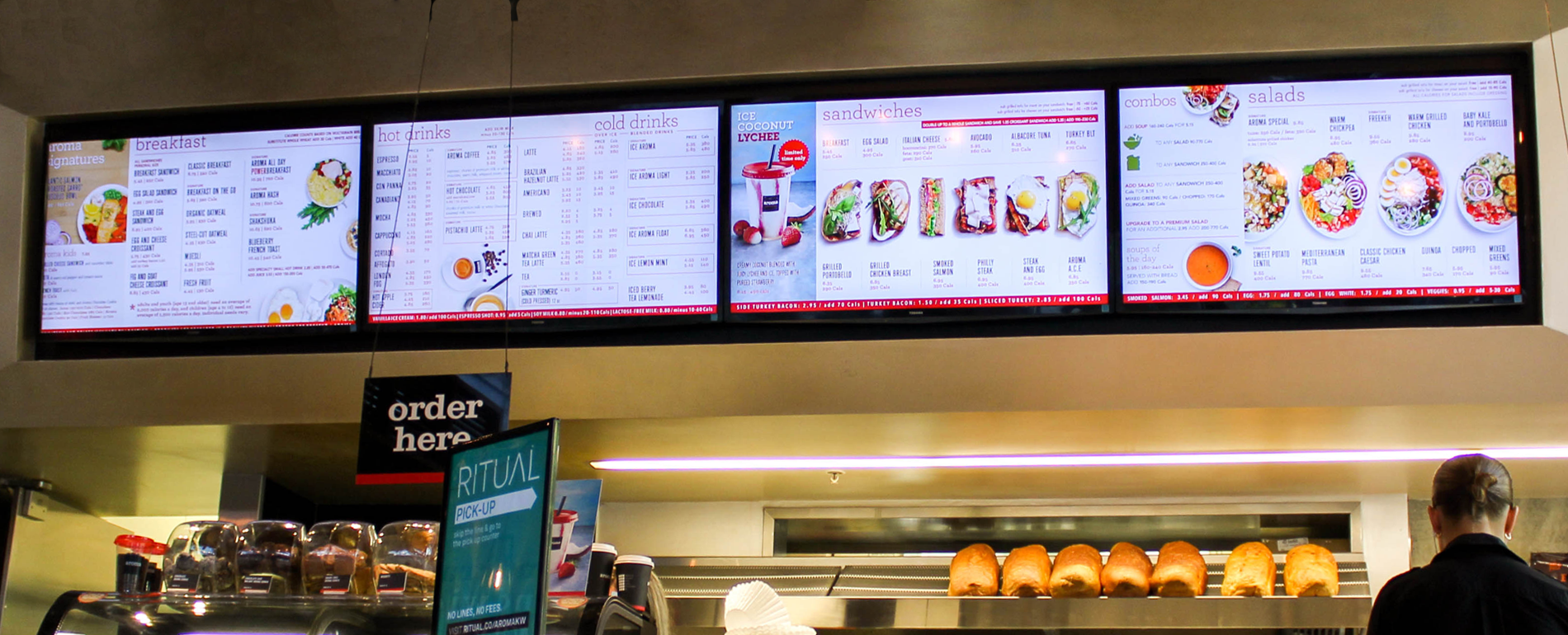 Everything You Need To Know About Digital Menu Boards!
Digital menu boards are an asset to any business that relies on fast-paced advertising as well as extensive and interactive customer outreach. Quick service restaurants, fast food chains, and specialty retailers have the most to gain with this innovative and efficient technology due to the high-traffic and fast-moving nature of these businesses. Digital menu boards can save you money, while also upselling your customer, meaning an increase in the revenue coming in each day.
Costs
Digital menu boards are incredibly flexible and can allow the user to change content easily and quickly, for any adjustments or changes that occur within the business.  They are the perfect solution to advertise daily specials or short-term promotional event items such as "buy a coffee and get a free croissant between 7 am to 11 am." If you are about to run out of an item, you can adjust the display immediately to communicate with your guests prior to them waiting in line to only hear that their item is out of stock.
Digital menu boards are efficient due to less waste from printed menus and posters. All of these options save your staff time, so they can concentrate on providing excellent customer service rather than producing new menu boards, due to price changes, ingredients, or image changes.
Lasting Impressions
Whether someone is taking a lunch break or stopping by, they usually have a limited amount of time. You can maximize that time by using digital menu boards. Menu boards can help improve the customer experience by informing people and saving them time. First off, you can show images of your products, seeing a nice image of a sandwich, or an animation of a steaming cup of coffee is far more enticing than just having the word "sandwich, or coffee" on a board. It is said that the human eye processes images differently than we do words, actually acting as a trigger for certain parts of our brain. You can have image moving in and out of the frame to entice the user's eye. Incorporate the excellent use of negative space on your menu boards so that it can help guide the viewer's eye to specific areas of the display that have your promotions or high-margin items.
Nutritional Information
Nowadays, many people have particular dietary restrictions or allergies, and you can now address those concerns using your digital menu board to educate your audience on which menu items fit their needs . Nutritional information can be displayed, such as calorie count, and dietary fats can be highlighted. People with allergic reactions or very restrictive diets appreciate the peace of mind and can turn into regular customers.
Relationship with customers
Unique and interactive digital signage can help to create a healthy and lasting impression on your customer, The first impression is important to establishing brand loyalty, but it is equally important to deliver the same quality and service every time your customers return. Keep in mind that their word of mouth is ultimately the best kind of advertising your business will get.
Digital menu boards make the customer experience better and help your staff work more efficiently. That's why more and more businesses are using them in all sorts of contexts.