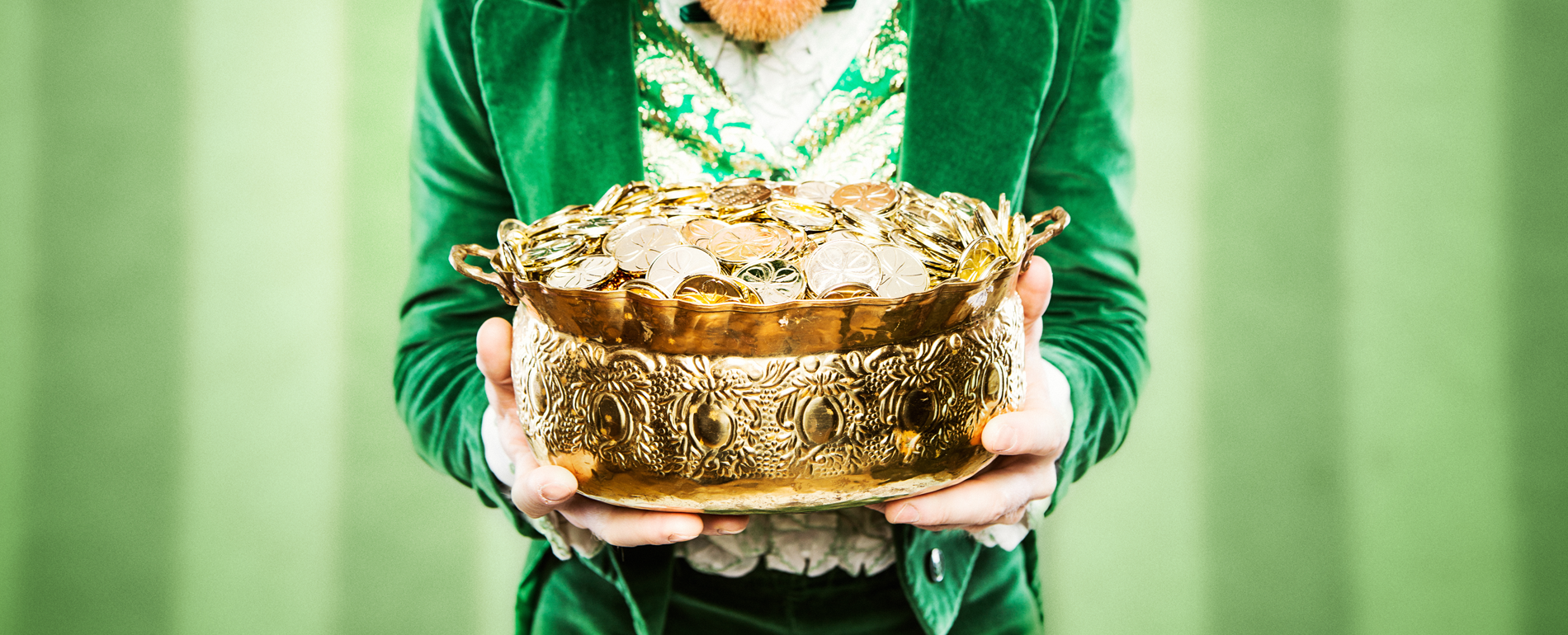 Bring Some Irish Luck Back to Your Restaurant
Ready to find your restaurant's pot of gold? This year Saint Patrick's Day falls on a Saturday, which is sure to bring folks out for a traditional hearty Irish breakfast and a pint of Guinness. It's time to put on your green attire, find your four-leaf clover and attempt to catch a leprechaun. Whether you own a diner, bar, or restaurant, be ready to offer up the most creative Irish-inspired products for your customers.
Following the winter holiday season, January through April are often when customers are holding their wallets tight. Although, according to the National Retail Federation it is estimated that there would be a whopping 5.3 billion dollars being spent during St. Patrick's Day this year.
Make the most of St. Patrick's Day with these tips and tricks.
Green Filled Menu
Transform your menu by going green with drinks, and not limiting your selection to just providing green beer. Create delicious cocktails and non-alcoholic beverages to offer a variety of choices for your consumers. People tend to love dishes such as shepherd's pie, corned beef, and cabbage, so be sure to have a few on your menu. Irish food can be very inexpensive and easy to make for a large volume of customers.
There is a ton of themed drinks and food combos you can place on your menu, for instance, the iconic green eggs and ham. Go traditional and offer a combo meal of shepherd's pie and an Irish stout. Combos are a great way to get customers to order extra items they may not have considered. Keep it simple for servers by programming combos and other promotional offers into your POS so they can be automatically applied.  
Don't leave your inventory up to luck
Nothing is worse when you have a large crowd, and you find out you're running low on inventory. This can be very stressful. It's important to analyze a few metrics to ensure that your inventory will survive the weekend rush.
Although, with a perpetual inventory management system, switching up your menu is simple. Whether you're receiving new shipments, scanning barcodes, or entering SKUs, reduce the chances of human errors by integrating your inventory tracking into your POS with a perpetual inventory system. Always know how much inventory you have on hand. Ensure that your POS system is up to date and hold the capabilities to customize menu orders.
Offer Lucky Deals at your Restaurant
According to the National Retail Federation, in 2017 almost 82.5% of consumers celebrated St. Patrick's Day by wearing the color green. You can create new offers where customers who wear green get a 10% off drinks or receive a specialty cup or unlimited green beer. There is an infinite number of ways to create promotions and create engagement with customers and your restaurant.
After planning out your customized menu and drinking list, don't forget to promote all the discounts you will be having at your restaurant and bar. Social media and email campaigns are ideal for this.
Prep Your Staff
You can have everything ready for the big day, but if your employees aren't on board with St. Patrick's Day fun, then all your effort will fall short. Ensure that during this holiday you won't be faced with being understaffed. The last thing you want is to have a significant crowd of individuals start to get upset due to slow service. It's important also to ensure that all your staff is well-trained, prepared and going to be considerate of all guests. You can also encourage them to interact with guests celebrating the Irish holiday. Perhaps they can use it to start a conversation with customers. Meet with your staff and cook up a game plan.
Break out your green decorations and vintage pieces to have some fun and create an atmosphere filled with friendship and happiness in your establishment that will be contagious for everyone. Make the most out of this year's St. Patrick's Day and catch the pot of gold at the end of the rainbow.