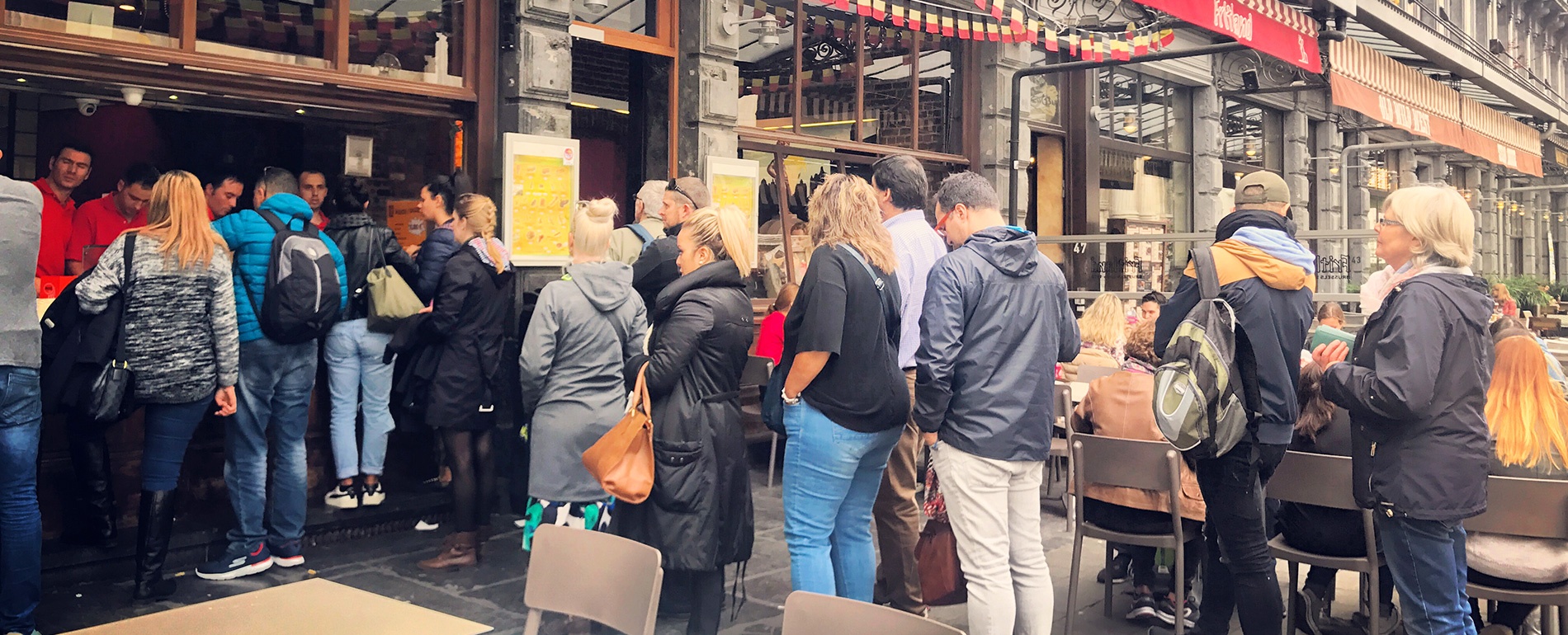 6 Variables to Consider When Implementing an Ordering Kiosk
The adoption of self-ordering kiosks is happening in many restaurants around the globe, and customers enjoy its benefits. The technology helps one big issue casual restaurants and QSRs have: long lines. Studies have shown that if there's a line to order with more than 5 people, 57% of all customers will leave the line and look for another place to eat. 57%!!! This means that there's a high possibility of every time there's a waiting line in your restaurant, half of customers will choose one of your competitors.
Ordering kiosks increase your chances of retaining these ready-to-leave customers, shortening the waiting line. But how to choose the best option among everything that's out there? No worries. We broke a few things down for you to consider when getting this trendy technology.
Footprint
One of the first things to consider is the kiosk size. If your restaurant has a large area to accommodate the new technology, you can choose from all varieties of sizes and shapes. You can even consider installing the "wall" version but remember, this option is not as flexible as a stand-alone kiosk. In case you want to renovate your restaurant and change its interior design, you'll face some challenges relocating it.
Usability
Tableside ordering tablets are being used widely in a multitude of restaurants nowadays. Besides providing substantial improvements to your business, customers using tablets tend to enjoy the experience better and feel more satisfied. But you will only achieve a higher level of satisfaction if the tablets are user-friendly.
It's no different for ordering kiosks. A clear and intuitive interface, which customers can use hassle-free, is a mandatory requirement. It can be a deciding factor for a customer to leave and never come back or share with their friends the fast and easy experience they had at your restaurant.
Integrations
Another crucial point to consider is how your kiosk connects to all technologies you have in your restaurant. An efficient system should include an integrated payment solution, that pushes the payment to the POS system once the customer submits the order. This reduces the number of steps required to place an order and ensures a seamless experience for your guests.
In order to truly streamline your operations, reducing ordering time and human error, you must rely on a solution that supports integrations with all major industry providers. And these integrations must function perfectly with no lag time. Just imagine if you rush to a restaurant and use an ordering kiosk because you have to get back to work, and it glitches when you place your salad order. No. Nobody likes that.
Menu Options
Along with numerous integrations, another aspect to consider is how a kiosk organizes its menu items and how it facilitates your staff's daily activities. Orders used to be straightforward, with standard options and fewer items, but since customization and dietary restrictions started playing a significant role in the industry, restaurants had to adapt to the demand.
A well-developed kiosk will allow you to add complex menu combinations and customized orders without confusing your staff. As a consequence, your business will offer a huge benefit to customers, who will be able to order exactly what they want, without holding up the line or feeling pressured by a staff member taking their order.
Data
It's important to attend to your clients' demands with the best you have to offer, but there is no way of doing it without knowing what they want. Today, every electronic device that presents any type of interaction with a person, has the potential to store some kind of information. In the case of ordering kiosks, this information can help restaurateurs to understand their customers better, efficiently addressing their needs. Kiosks can even ask survey questions after every transaction.
However, this data must be reliable and easy to understand. Businesses tend to accumulate as much information as they can get from their customers, but wrongly interpreting the data could lead to bad business decisions. Working with a kiosk provider that presents organized and clear data is another critical factor for a successful restaurant.
Customer Support
Finally, but not less important, you need reliable support when something doesn't go as planned. Most providers still lack reliable 24/7 customer support or charge extra fees for talking to a support rep, and no business should be left hanging when a problem occurs, day or night. Look for companies that understand your business's needs and workload demand, so issues won't hold you back from achieving your goals.   
It's easy to get confused with tons of options in the market. When looking for an ordering kiosk, do your research, talk to sales personnel, book demos, go to restaurants that use the technology you are looking for. In the end, your restaurant will be the one using it, so you must find whichever option fits your business best.