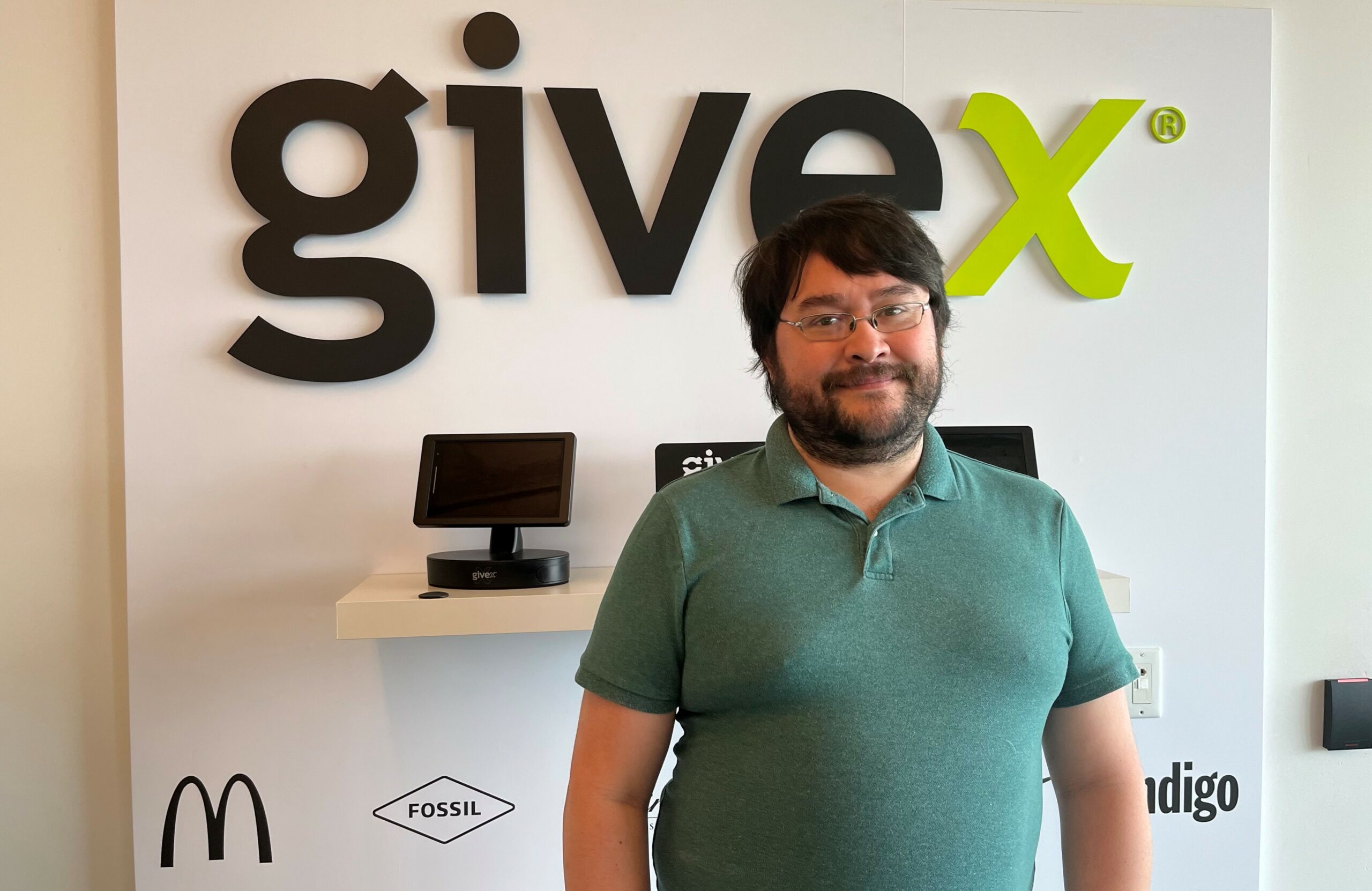 Employee Spotlight: Allard Marchand, Program Administration and Control (PAC) Manager
Having learned the basics of Givex as a Customer Service Representative, Allard Marchand quickly moved on to becoming a Manager for the Program Administration and Control (PAC) Team. Taking on lessons from his own leaders at Givex, Allard now supports the team with his ongoing mentorship and knowledge of the business.
What has been your most rewarding experience during your time here?
I really enjoyed moving from CS to PAC. I was able to bring my skills and perspective from another department to really identify opportunities to improve efficiency on my new team. My previous experiences also allowed me to fill in a lot of the gaps for the PAC team and help them find the big picture perspective when completing their tasks. I love as a leader when I can see that « Aha! » moment with my team where they finally connect the dots and better understand their role in Givex's success.
What skills or knowledge have you gained while working here, and how have they helped you in your career?
Communication is an important skill in general, and my time with Givex has really helped me to finetune my communication style and habits. I needed to ensure I was able to communicate my ideas effectively and clearly when we moved to remote working as we lost the nuance of immediate verbal confirmation. It also made me more proactive with both my clients and my team. Being able to identify and resolve challenges before they impact productivity has been key in keeping the many spinning plates of PAC in the air.
What advice would you give to someone considering a career at Givex?
Be welcoming to being challenged. Givex covers such a vast array of products and services that no one can possibly understand every process or service we have in place. Being open to taking on unfamiliar tasks is a great way to increase your exposure to new skills and knowledge. Givex has fantastic teams in every department who are eager to share their knowledge and best practices. Taking on new challenges is the fastest way to start taking advantage of that.
How does it feel to be a team leader at Givex?
The leadership opportunities at Givex are one of my favorite parts of working with Givex. I saw early on that the leaders often take on a mentor role and want to push their teams to succeed. I have always viewed leadership as a supporting role and that it is my job to ensure everyone on my team feels empowered to excel in their tasks. I love that I get to work with people every day and help them drive success for both themselves and Givex as a company.
In what ways has working at Givex as a Manager for the Program Administration and Control (PAC) team challenged you?
Givex can be very challenging, as all of my roles have always touched a lot of other departments. It has always been important to be able to collaborate with other teams and ensure I am learning as much as I can from every interaction. Each department at Givex has their own processes to follow and my team is often the bridge between these departments. I need to ensure my team is receptive to feedback and adaptive to frequent changes. The PAC team has really focused on making these handoffs as smooth as possible and keeping everyone involved as informed as possible.
How have your past experiences prepared you for your current role at Givex?
I have held leadership roles in the past that helped me define my coaching style and approach to leadership. I feel a leader should be supporting their team — and their team's success is their success. It was so exciting to see those values reflected in my leaders at Givex and that I was provided with the opportunity to pass that support along to my teams. Every day I get to provide guidance to my team and seeing them succeed and thrive is very satisfying.
How would you describe your team and everyone else at Givex?
Givex is a very welcoming environment. The open nature of how we do business means everyone can learn almost anything if they have the drive and desire to do so. Everyone remembers those first days of being overwhelmed and it is great to see that everyone on my team ensures new members feel reassured and welcome. The whole team is always ready to offer a helping hand and we all know sharing knowledge helps us all succeed. I have seen these practices on every team I have had the pleasure of being a part of and it is fantastic to work in such a nurturing environment.