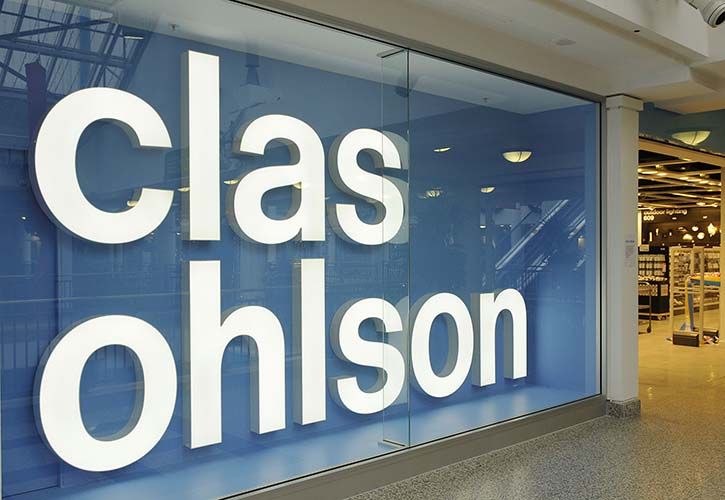 Case Study
How We Helped Clas Ohlson
Multinational gift card program with real-time currency conversion
Seamless transition for staff and customers
In-depth reporting to uncover useful customer insights
Imported complex card programs
The Challenge
Established in 1918, Clas Ohlson is a leading retailer of Do-It-Yourself (DIY) supplies and products for home projects in Sweden, Norway, UK, and Finland. Worldwide, Clas Ohlson has over 178 stores, with 143 in Scandinavia alone, making it the largest retailer of its type in the region. Clas Ohlson initiated a search for a new gift card provider, one which would be able to power a global gift card program for their international locations.
Our Solution
Seamless Transition
More than 174,000 cards issued by the previous provider were in the hands of consumers across Sweden, UK, Finland and Norway. Clas Ohlson could neither reissue all the outstanding cards nor invalidate them.The transition would have to be seamless for cardholders. Givex imported all active card numbers (including card balances, and expiry dates) from the previous provider. In addition to supporting all previous functionality (4 different card types, expiry dates) Givex also enabled Clas Ohlson and its cardholders to take advantage of new Givex features (cross-currency redemption, card grouping)
Dynamic Currency Conversion
Gift cards had to be usable across the 4 countries and their respective currencies. Clas Ohlson also wanted the ability to set its own currency exchange rates. Givex rolled out Dynamic Currency Conversion across the 4 countries. A gift card could be sold in any country and its balance would be in that currency. If the gift card was used in another country, the transaction would be processed in the local currency. Conversion would be in real-time, using the daily exchange rate. Givex developed a new service, integrating directly with Clas Ohlson to update the exchange rates on a daily basis to match the rates on their system.
4 Different Card Types
Clas Ohlson ran 4 different types of programs using its existing provider (Gift cards, Store credit cards, Refund cards, 3rd Party E-cards). These would need to be transitioned seamlessly to Givex. Givex generated card numbers in different number formats for each of the 4 card types. At the POS level, Givex used this to distinguish between the various programs, enabling or disabling different functions, and tracking transactions separately for reporting purposes. Givex's flexible numbering format supports Clas Ohlson's existing card types and allows it to add new card types in future without having to register for new Issuer Identification Numbers (IIN).
Bulk Activation for B2B Sales
Clas Ohlson sold gift cards in bulk to a corporate client to use as prizes in a lottery. The gift card provider would need to make this bulk B2B program easy to manage and administer. Givex produced 40,000 cards for this program. Clas Ohlson head office staff used the Givex online administrative portal to activate the cards individually or in bulk as needed and fulfilled the orders themselves
Language Support
Swedish was the main business language for Clas Ohlson. Givex added Swedish to its list of languages for the Givex API and online balance check service.
Working with Givex has proved to be a valuable partnership for us. We were impressed by Givex's ability to deliver a flexible and reliable solution to our multi-national gift card challenge, and by how open Givex was to cooperation and developing new technical solutions for us.

ROBERT RAHM, CONCEPT DEVELOPMENT MANAGER, CLAS OHLSON
The Results
Clas Ohlson launched a Givex gift card program in Sweden in 2012 and rolled out to UK, Finland and Norway over 2012 and 2013. The change was seamless to all 174,000 cardholders.

The full-featured and flexible online portal enabled Clas Ohlson to continue operating this program without any additional development or overhead, and the new, more reliable e-card program has also increased customer satisfaction.

Givex was able to add Swedish, the main business language for Clas Ohlson, to the Givex API, and implement all changes in a timely fashion.  Givex's ease of reporting and follow up has enabled Clas Ohlson to work more actively with the gift card program and perform more extensive data analysis. The finance department is also very pleased to be able to track e-cards more closely than was possible before and get more accurate information.  

Supporting all Clas Ohlson's existing programs, Givex was able to simultaneously provide new flexibility for growth.  Clas Ohlson is currently exploring new opportunities with Givex, including 3rd party gift card malls. Clas Ohlson expects this to result in increased gift card sales and turnover.