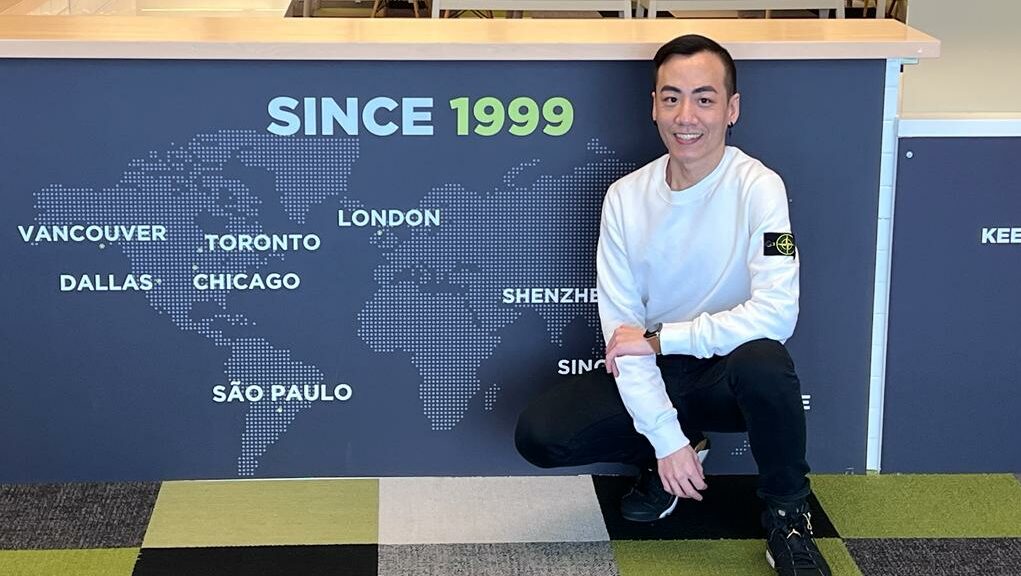 Employee Spotlight: Adam Truong, Senior Integrations Analyst
Adam Truong started off his career at Givex as a Customer Service Representative. A few years later, Adam now fills a crucial role at the company by working as Senior Integrations Analyst. His journey is a representation of the Givex career lifecycle and a perfect example of how we focus on employee retention in the long run.
What drew you to Givex, and what do you enjoy most about working here?
I was drawn to Givex because of the multitude of tools available to troubleshoot and resolve issues. Although it can be challenging to learn them at first, Givex provides a great tool belt of resources that allow me to develop my out-of-the-box thinking. Additionally, the community and team mentality environment at Givex has made working here enjoyable. The company has always kept up with the ever-changing industry, particularly with Point of Sale (POS) developments and updates, which has kept me on my toes. Overall, I am thrilled to work at Givex, where I have access to cutting-edge technology and a supportive team that encourages creative problem-solving.
What has been your most rewarding experience during your time here?
My most rewarding experience has been the opportunity for growth and development. I started in Customer Service and soon became a 'jack of all trades.' Eventually, I was offered the chance to become a trainer to help train and transition new hires. As I continued to excel, I was then given the opportunity to join the specialized Network and Integrations team, where I was able to learn and gather more experience. The supportive community at Givex made each step of my career here feel like I was part of a larger team. Being able to grow and develop while feeling supported by my colleagues has been the most rewarding experience during my time at Givex.
What skills or knowledge have you gained while working here, and how have they helped you in your career?
During my time at Givex, I have gained various skills and knowledge that have helped me in my career. One of the most significant skills I have developed is multitasking. Starting in Customer Service, I was introduced to a multitude of tools while actively engaging with clients, which allowed me to develop the ability to multitask in larger integration aspects. I can now jump from understanding how an eCommerce site wants to process their gift card redemptions to online ordering and the many other complexities therein.
Another skill I have gained is analytical thinking. Working on numerous projects over the years has required me to understand the larger scope details – such as when APIs are sent to our server – down to the finer details, like what data an integrator includes in their API. Through working on these projects, I have developed skills like being able to ask the right questions and answer their questions effectively.
Lastly, I have gained perseverance, which is a valuable skill in both my professional and personal life. Sometimes, the multitude of tools and complex technical issues can be overwhelming, but staying committed to finding a solution has given me a no-quitting attitude in everything I do and tackle day-to-day.
In what ways has working at Givex as a Senior Integrations Analyst challenged you?
One of the biggest challenges has been learning to manage my time effectively. In this role, I need to be able to juggle multiple tasks simultaneously, whether it's attending technical calls, reviewing logs, or responding to complex client inquiries. This challenge has taught me how to prioritize my workload and develop excellent time-management skills.
Another way this role has challenged me is by pushing me out of my comfort zone. As an Integrations Analyst, I'm often required to learn new tools and find innovative solutions to technical issues. This experience has helped me develop an out-of-the-box thinking approach, allowing me to tackle problems from multiple angles and come up with creative solutions that meet our clients' needs.
Finally, working on large integration projects has fostered my creativity. With extensive business requirements and data needs to consider, I've had to think outside the box and come up with innovative solutions to meet our clients' needs. This challenge has been incredibly rewarding, allowing me to develop critical problem-solving skills that have helped me both professionally and personally.
How have your past experiences prepared you for your current role at Givex?
My past experiences have played an essential role in preparing me for my current position at Givex. From a young age, I've always had a passion for technical support, whether it be working with developers and QA teams on back-end systems or collaborating with clients and project managers on the front end. This passion has remained consistent throughout my career, and it has been a valuable asset in my current role.
Starting my career at Givex in the Customer Service department was an excellent opportunity for me to learn the ins and outs of the company's many different aspects, from teamwork to new skills and knowledge. This experience gave me a solid foundation and helped me make a seamless transition into the Integrations team. Since then, I've been able to dive even deeper into technical aspects, back-end system knowledge, and programming, building on the skills and knowledge I gained from my past experiences.
Overall, my passion for technical support and my past experiences have been invaluable in my current role at Givex, helping me to develop the skills and knowledge necessary to be successful and make meaningful contributions to the team.
What's your favorite part about coming to work every day? What keeps you motivated?
What I enjoy most about coming to work every day is problem-solving and being able to use my technical knowledge to tackle new challenges. I also love collaborating with other teams, such as developers, QA, and project managers, to share knowledge and work toward a common goal. Additionally, I am motivated by the opportunity to learn and innovate, and being exposed to new technologies and ideas helps me to continue growing in my role as an integration analyst.
How would you describe your team and everyone else at Givex?
No matter what roles I have been in at Givex, teamwork and excelling have always been the focus. From starting my first day (on both teams) I've been able to rely on a team to support my learning, growth, and victories. Whether in CS or N&I, the first day or first time seemed very daunting; new tasks to accomplish, new systems to learn, the list can go on but, every step of the way I felt the support of a team to rely on which built my own confidence in learning more and more.