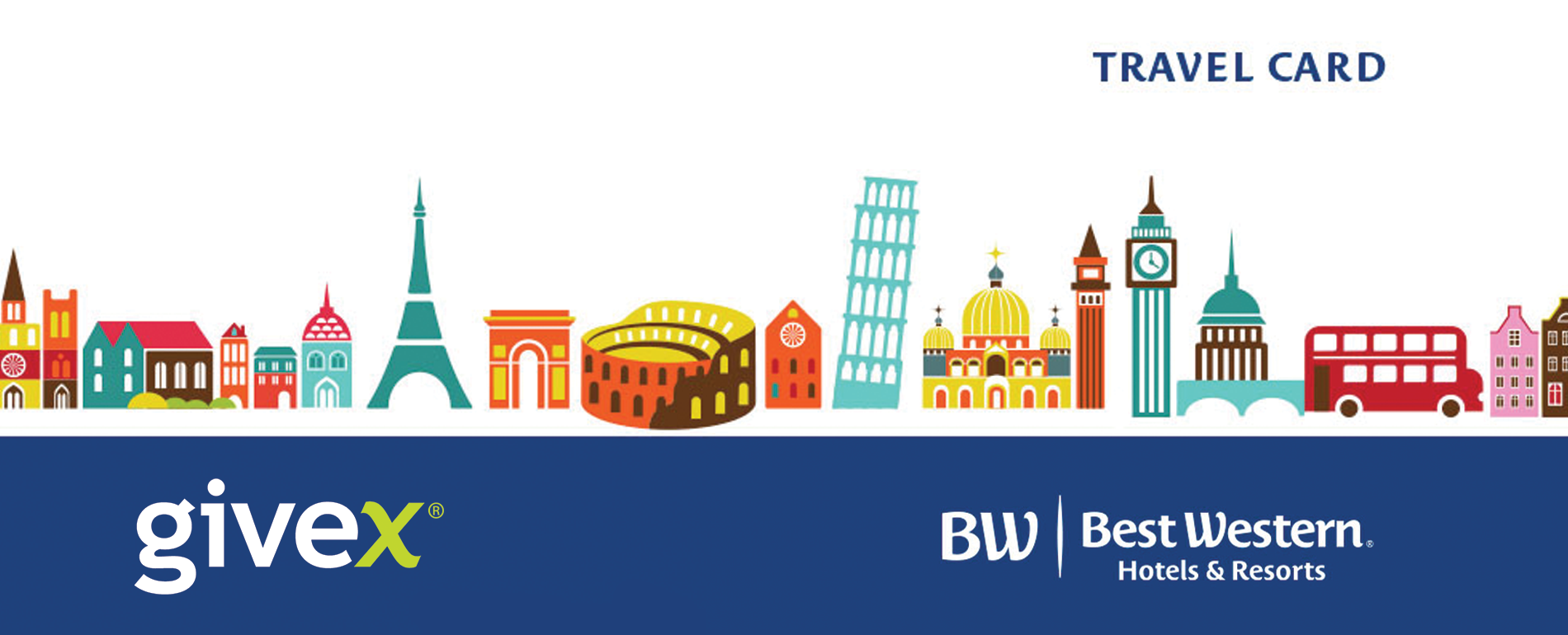 Givex® Announces Global Partnership with Best Western®Hotels & Resorts' Best Western Travel Card® Program
With plans for future growth, 4,500-unit global hotel chain upgrades gift card processing platform with Givex
TORONTO — Givex, the cloud-based customer engagement solution that helps to streamline business operation from end-to-end, recently announced its partnership with Best Western Hotels & Resorts, a global hospitality company with over 4,500 hotels and resorts in nearly 100 countries and territories worldwide. Best Western will utilize the Givex gift card platform to issue and redeem Best Western Travel Cards globally.
The first phase of the partnership was launched in late 2018, less than six months after the deal was inked, an impressive feat for both teams. As part of the partnership, Givex will provide 24/7 support and fulfillment for all Best Western locations.
"Best Western has experienced tremendous growth in the last few years as the company continues on its path of transformation and modernization," said Dorothy Dowling, Senior Vice President and Chief Marketing Officer of Best Western Hotels & Resorts. "As our global footprint expanded, our need for a scalable gift card solution became evident. Givex is a leader in the space and provides the secure features, product control and enhanced reporting and operational capabilities we need, while also delivering a significant benefit to our customers and partners."
"To be able to partner with a global powerhouse like Best Western speaks volumes about our ability to provide scalable technology solutions that make operations easier for our partners, no matter their industry," said Don Gray, CEO at Givex. "We look forward to working hand-in-hand with Best Western to ensure a seamless gift card experience for their operators and their guests."
Best Western has 4,500 hotels in nearly 100 countries, with a little over half in North America, and a strong presence in Europe and Asia. Now with the capability to issue cards in multiple currencies that are redeemable at all hotels worldwide, Best Western plans to leverage the Givex gift card platform in its future national promotions.
ABOUT GIVEX® 
Givex is a global cloud-based operations management solution designed to streamline business efficiencies and generate valuable and actionable customer data. Since its founding in 1999, Givex has provided operational intelligence across a wide of variety of industries, from restaurant and retail to hospitality and the service sector, offering a fully integrated suite of customizable products, including gift cards, loyalty, Vexilor™ point-of-sale (POS) system, Tiqer™ Tableside Ordering and Rx Analytics. Givex's Uptix™ ticketing solution transforms traditional sports or event tickets into a mobile interactive platform, providing event managers with new insights into their customer base and the ability to elevate the fan experience. With more than 16 billion transactions conducted across more than 55 countries, Givex is at the forefront of how brands will compete for customers now and in the future. For more information about Givex please visit https://web.givex.com/.
About Best Western® Hotels & Resorts:
Best Western Hotels & Resorts headquartered in Phoenix, Arizona, is a privately held hotel brand with a global network of over 4,500 hotels in nearly 100 countries and territories worldwide*. Best Western offers 16 hotel brands to suit the needs of developers and guests in every market. Best Western branded hotels include Best Western®, Best Western Plus®, Best Western Premier®, Executive Residency by Best Western®, Vīb®, GLō®, AidenSM, SadieSM, BW Premier Collection®, and BW Signature Collection®. Through recent acquisition, Best Western now also offers WorldHotels® Luxury, WorldHotels Elite and WorldHotels Distinctive brands. Completing its portfolio, Best Western offers SureStay®, SureStay Plus®, and SureStay Collection® franchises**. Now celebrating more than 70 years of hospitality, Best Western provides its hoteliers with global operational, sales and marketing support, and award-winning online and mobile booking capabilities. Best Western continues to set industry records regarding awards and accolades, including 66 percent of the brand's North American hotels earning a TripAdvisor® Certificate of Excellence award in 2018, Business Travel News® ranking Best Western Plus and Best Western number one in upper-midscale and midscale hotel brands respectively for two consecutive years, and Fast Company honoring Best Western Hotels & Resorts with a spot in the Top 10 Most Innovative Companies in the Augmented Reality/Virtual Reality category. Best Western has also won 10 consecutive AAA®/CAA® Lodging Partner of the Year awards, recognizing the brand's commitment to providing exceptional service and great value to AAA/CAA's nearly 60 million members in the U.S. and Canada. Best Western-branded hotels were top ranked in breakfast (food and beverage category) by J.D. Power's 2018 North America Hotel Guest Satisfaction Index Study – ranking first for midscale; and second for upper midscale. Nearly 40 million travelers are members of the brand's award-winning loyalty program Best Western Rewards®, one of the few programs in which members earn points that never expire and can be redeemed at any Best Western-branded hotel worldwide. Best Western's partnerships with AAA/CAA and Google® Street View provide travelers with exciting ways to interact with the brand. Through its partnership with Google Street View, Best Western is the first major company of its size and scale to launch a virtual reality experience for customers, setting a new industry standard and reinventing how guests view hotels.
* Numbers are approximate, may fluctuate, and include hotels currently in the development pipeline.
**All Best Western, WorldHotels and SureStay branded hotels are independently owned and operated.